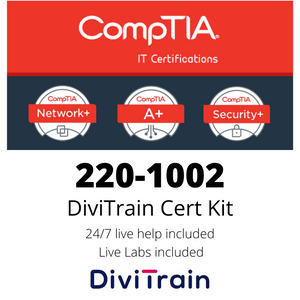 DESCRIPTION
CompTIA A+ certified professionals are proven, problem solvers. They support today's core technologies from security to cloud to data management and more. CompTIA A+ is the industry standard for launching IT careers into today's digital world. 
The only credential with performance-based items to prove pros can think on their feet to perform critical IT support tasks at the moment
Trusted by employers around the world to identify the go-to person in endpoint management & technical support roles
Regularly re-invented by IT experts to ensure that it validates the core skills and abilities demanded in the workplace
The CompTIA A+ Core Series requires candidates to pass two exams: Core 1 (220-1001) and Core 2 (220-1002) covering the following new content:
Demonstrate baseline security skills for IT support professionals
Configure device operating systems, including Windows, Mac, Linux, Chrome OS, Android, and iOS and administer client-based as well as cloud-based (SaaS) software
Troubleshoot and problem solve core service and support challenges while applying best practices for documentation, change management, and scripting
Support basic IT infrastructure and networking
Configure and support PC, mobile and IoT device hardware
Implement basic data backup and recovery methods and apply data storage and management best practices
Details
This vendor-neutral CertKit covers competencies typically expected of an entry-level IT professional with at least 12 months of hands-on experience on the job or equivalent training. The CertKit covers four main areas any IT professional should be familiar with; operating systems, security, software troubleshooting, and operational procedures preparing the learner for the CompTIA A+ 220-1002 exam. This exam counts toward the CompTIA A+ certification.
Prerequisites:
To ensure your success in this course, you should have basic computer user skills, be able to complete tasks in a Microsoft Windows environment, be able to search for, browse, and access information on the Internet, and have basic knowledge of computing concepts. Students for this exam should have passed the CompTIA A+ 220-1001 exam.
Course outcome:
Support operating systems.
Install, configure, and maintain operating systems.
Maintain and troubleshoot Microsoft Windows.
Configure and troubleshoot network connections.
Manage users, workstations, and shared resources.
Implement physical security.
Secure workstations and data.
Troubleshoot workstation security issues.
Support and troubleshoot mobile operating systems and applications.
Implement operational procedures.
Who should attend:
This course is designed for individuals who have basic computer user skills and who are interested in obtaining a job as an entry-level IT technician. This course is also designed for students who are seeking the CompTIA A+ certification and who want to prepare for the CompTIA A+ 220-1002 Certification Exam.
Module overview:
E-learning courses:

CompTIA A+ 220-1002: Comparing Common Operating Systems
CompTIA A+ 220-1002: Microsoft Operating System Installation & Upgrade
CompTIA A+ 220-1002: Microsoft Command Line Tools
CompTIA A+ 220-1002: MS Operating System Administrative Tools
CompTIA A+ 220-1002: Windows Control Panel Utilities
CompTIA A+ 220-1002: Application Installation, Networking, & Tools
CompTIA A+ 220-1002: Critical Security Concepts
CompTIA A+ 220-1002: System Utilities

MeasureUp Exam simulation
Online Mentor 24/7
Tips & Tricks
Labs available