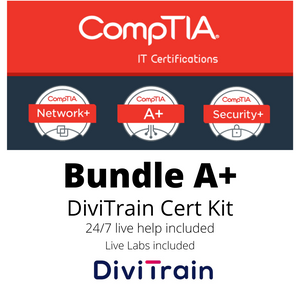 Course Overview
The CompTIA A+ Core Series courses are perfect for those individuals looking to start a new career in the IT sector. As for the more experienced IT professionals, gaining the CompTIA A+ qualification will validate your skills and can give your career in IT a substantial lift. This course package contains both the newly revised CompTIA A+ 220-1001 and 220-1002 (Core 1 & Core 2) course content.
The certification covers a solid foundation of knowledge as it demonstrates to students the fundamentals as far as the installation and maintenance of hardware as well as the customisation and operation of various platforms such as mobile devices is concerned.
This internationally recognised certification has remained extremely popular in the IT field since it focuses on a wide array of subjects such as networking, laptops and mobile devices, installation and configuration of various operating systems, security and troubleshooting to name but a few.
The only credential with performance-based items to prove pros can think on their feet to perform critical IT support tasks at the moment
Trusted by employers around the world to identify the go-to person in endpoint management & technical support roles
Regularly re-invented by IT experts to ensure that it validates the core skills and abilities demanded in the workplace

The CompTIA A+ Core Series requires candidates to pass two exams: Core 1 (220-1001) and Core 2 (220-1002) covering the following new content:
Demonstrate baseline security skills for IT support professionals
Configure device operating systems, including Windows, Mac, Linux, Chrome OS, Android, and iOS and administer client-based as well as cloud-based (SaaS) software
Troubleshoot and problem solve core service and support challenges while applying best practices for documentation, change management, and scripting
Support basic IT infrastructure and networking
Configure and support PC, mobile and IoT device hardware
Implement basic data backup and recovery methods and apply data storage and management best practices