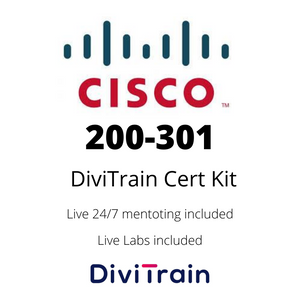 Cert Toolkit
In-depth e-learning content includes 365-day online access to e-learning, exam quizzes, tips, and information.
MeasureUp practice test is available for 60 days which starts with the first time you access the practice test area.
Live labs, online live help, and mentoring for 365 days included.

Details
Description:
The Implementing and Administering Cisco Solutions (CCNA) CertKit gives you a broad range of fundamental knowledge for all IT careers.
You will learn how to install, operate, configure, and verify basic IPv4 and IPv6 networks.
The CertKit covers configuring network components such as switches, routers, and wireless LAN controllers; managing network devices; and identifying basic security threats.
The CertKit also gives you a foundation in network programmability, automation, and software-defined networking.
This CertKit helps you prepare to take the 200-301 Cisco Certified Network Associate (CCNA) exam. Bypassing this one exam, you earn the Cisco CCNA certification.
Prerequisites:
It is strongly recommended, but not required, that students have the following knowledge and skills:
Basic Computer Literacy.
Basic PC Operating System Navigation Skills.
Basic Internet Usage Skills.
Basic IP Address Knowledge.
Course outcome:
This course will help you:
Learn the knowledge and skills to install, configure, and operate a small- to medium-sized network.
Gain a foundation in the essentials of networking, security, and automation.
Prepare for the 200-301 CCNA exam, which earns CCNA certification.
Who should attend:
This CertKit is designed for anyone seeking CCNA certification. It provides foundational knowledge for all support technicians involved in the basic installation, operation, and verification of Cisco networks. The job roles best suited to the material in this course are:
Entry-level network engineer
Network administrator.
Network support technician.
Help desk technician.
CertKit content:
E-learning courses:

CCNA 2020: Networking Components
CCNA 2020: Networking Components - NGFW, NGIPS, & Cisco DNA Center
CCNA 2020: WLCs, Access Points, Servers, & Endpoints
CCNA 2020: Network Topology Architectures
CCNA 2020: Network Topology Architectures - WAN, Cloud, & SOHO
CCNA 2020: Layer 1 Interfaces & Cabling
CCNA 2020: Layer 1 Physical & Configuration Issues
CCNA 2020: Networking Protocols
CCNA 2020: IP Addressing Basics & Configuration
CCNA 2020: IPv4 Subnetting
CCNA 2020: IPv6 Addressing & Configuration
CCNA 2020: Virtualization Concepts
CCNA 2020: Network Access, VLAN Configuration, & Interswitch Connectivity
CCNA 2020: L2 Discovery Protocols & L2 and L3 EtherChannel Configuration
CCNA 2020: Spanning Tree Protocol
CCNA 2020: Cisco Wireless Architecture & WLAN Components
CCNA 2020: Cisco WLC Configuration & Wireless Management Access
CCNA 2020: Static Routing
CCNA 2020: Dynamic Routing
CCNA 2020: Configuring & Verifying NAT
CCNA 2020: NTP, DNS, & DHCP
CCNA 2020: SNMP, Syslog, & PHB for QoS
CCNA 2020: Configuring SSH, FTP, & TFTP
CCNA 2020: IT Security Concepts
CCNA 2020: Security Program & Password Policy Components
CCNA 2020: AAA Security & VPN Types
CCNA 2020: Configuring & Verifying ACLs
CCNA 2020: Configuring Port Security, DHCP Snooping, & DAI
CCNA 2020: Automation, Network Programmability, & SDN Architectures
CCNA 2020: APIs & Cisco DNA Center
CCNA 2020: Configuration Management & JSON Encoded Data

MeasureUp Exam simulation
Online Mentor
Tips & Tricks
Practice Labs