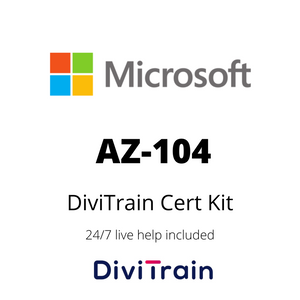 DESCRIPTION
Cert Toolkit
In-depth e-learning content includes 365-day online access to e-learning, exam quizzes, tips, and information.
MeasureUp practice test is available for 60 days which starts with the first time you access the practice test area.
Some Cert Kit Titles include online mentoring for 365 days. Please check the DETAILS section below to see if mentoring is included for this title.
This CertKit teaches IT Professionals how to manage their Azure subscriptions, secure identities, administer the infrastructure, configure virtual networking, connect Azure and on-premises sites, manage network traffic, implement storage solutions, create and scale virtual machines, implement web apps and containers, back up and share data, and monitor your solution.
Prerequisites:
Successful Azure Administrators start this role with experience on operating systems, virtualization, cloud infrastructure, storage structures, and networking.
Understanding of on-premises virtualization technologies, including: VMs, virtual networking, and virtual hard disks.
Understanding of network configuration, including TCP/IP, Domain Name System (DNS), virtual private networks (VPNs), firewalls, and encryption technologies.
Understanding of Active Directory concepts, including domains, forests, domain controllers, replication, Kerberos protocol, and Lightweight Directory Access Protocol (LDAP).
Understanding of resilience and disaster recovery, including backup and restore operations.
Course outcome:
In this course, you will learn about:
Identity
Governance and Compliance
Azure Administration
Virtual Networking
Intersite Connectivity
Network Traffic Management
Azure Storage
Azure Virtual Machines
Serverless Computing
Data Protection
Monitoring
Who should attend:
This course is for Azure Administrators. The Azure Administrator implements manage and monitor identity, governance, storage, compute, and virtual networks in a cloud environment. The Azure Administrator will provision, size, monitor, and adjust resources as appropriate.
Module overview:
E-learning courses:

AZ-104 - Microsoft Azure Administrator: Manage Azure AD Users
AZ-104 - Microsoft Azure Administrator: Manage Azure AD Groups & Devices
AZ-104 - Microsoft Azure Administrator: Manage Azure AD Subscriptions and Costs
AZ-104 - Microsoft Azure Administrator: Azure Policies
AZ-104 - Microsoft Azure Administrator: Managing Azure Roles & Tags
AZ-104 - Microsoft Azure Administrator: Managing Azure Storage Accounts
AZ-104 - Microsoft Azure Administrator: Managing Azure Files
AZ-104 - Microsoft Azure Administrator: Managing Azure Network Solutions
AZ-104 - Microsoft Azure Administrator: Managing Azure DNS & Network Security
AZ-104 - Microsoft Azure Administrator: Managing Azure Virtual Machines
AZ-104 - Microsoft Azure Administrator: Azure App Service & Batch Jobs
AZ-104 - Microsoft Azure Administrator: Availability Solutions
AZ-104 - Microsoft Azure Administrator: Monitoring Azure Resources

MeasureUp Exam simulation
Tips & Tricks
24/7 Live help