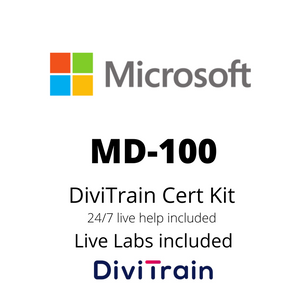 Cert Toolkit
In-depth e-learning content includes 365-day online access to e-learning, exam quizzes, tips, and information.
MeasureUp practice test is available for 60 days which starts with the first time you access the practice test area.
Some Cert Kit Titles include online mentoring for 365 days. Please check DETAILS section below to see if mentoring is included for this title.
Details
In this CertKit, you will learn how to support the installation tasks associated with Windows 10 and develop skills that include learning how to install and customize Windows 10 operating systems. You will also learn about the new Windows servicing model and methods for keeping Windows up to date. Students will develop skills that include managing storage, files, drivers, and printers as well as how to configure network connectivity for Windows 10.

Prerequisites:
Learners should start this course already having the following skills:
Basic understanding of computer networks and hardware concepts.
Basic understanding of OS and Application concepts.
Experience with using the Windows OS.
Course outcome:
Prepare and install Windows 10.
Configure Updates for Windows.
Perform post-installation configuration tasks.
Configure devices and drivers for Windows.
Configure storage for Windows.
Configure network settings in Windows.
Configure remote management of Windows.
Configure and manage applications in Windows.
Configure Internet Explorer.
Describe the methods for securing Windows 10.
Configure account access and authentication.
Configure file and folder permissions.
Create security policies.
Who should attend:
Candidates for this exam are IT professionals who perform installation, configuration, general local management, and maintenance of Windows 10 core services. Candidates may also be familiar with enterprise scenarios and cloud-integrated services.
Module overview:
E-learning courses:

MD-100 - Windows 10: Active Directory Management
MD-100 - Windows 10: Prepare for Deployment
MD-100 - Windows 10: Deployment
MD-100 - Windows 10: Perform Post-Installation Configuration
MD-100 - Windows 10: Manage Devices & Data
MD-100 - Windows 10: Policy-Based Management
MD-100 - Windows 10: Configure Networking
MD-100 - Windows 10: Configure Remote Connectivity
MD-100 - Windows 10: Configure System & Data Recovery
MD-100 - Windows 10: Manage Updates
MD-100 - Windows 10: Monitor & Manage Windows

MeasureUp Exam simulation
Online Mentor
Tips & Tricks
Live Labs