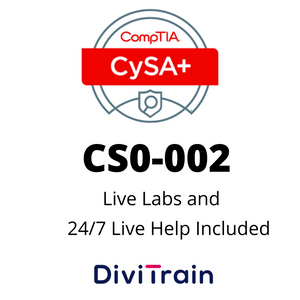 Description:
A Cybersecurity Analyst is responsible for the overall security of IT systems. This begins with a secure approach to system design, testing, and implementation. Ongoing monitoring determines whether existing security controls are effective in protecting assets. The CySA+ CertKit will teach you the fundamental principles of using threat and vulnerability analysis tools plus digital forensics tools. It will prepare you to take the CompTIA CySA+ CS0-002 exam.
Prerequisites:
To get the most out of the CompTIA CySA+ course and be able to prepare for your exam you should have successfully earned the CompTIA Network+ certification and CompTIA Security+ certification or have equivalent knowledge. Specifically, it is recommended that you have the following skills and knowledge before starting this course:
Know basic network terminology and functions (such as OSI Model, Topology, Ethernet, Wi-Fi, switches, routers).
Understand TCP/IP addressing, core protocols, and troubleshooting tools
Identify network attack strategies and defenses.
Know the technologies and uses of cryptographic standards and products
Identify network- and host-based security technologies and practices.
Describe the standards and products used to enforce security on web and communications technologies
Course outcome:
Leverage intelligence and threat detection techniques
Analyze and interpret data
Identify and address vulnerabilities
Suggest preventative measures
Effectively respond to and recover from incidents.
Who should attend:
This course is designed primarily for cybersecurity practitioners who perform job functions related to protecting information systems by ensuring their availability, integrity, authentication, confidentiality, and non-repudiation. This course focuses on the knowledge, ability, and skills necessary to provide for the defense of those information systems in a cybersecurity context, including protection, detection, analysis, investigation, and response processes.
Module overview:
E-learning courses:

CS0-002 - CompTIA Cybersecurity Analyst+: Threat Intelligence
CS0-002 - CompTIA Cybersecurity Analyst+: Business Continuity
CS0-002 - CompTIA Cybersecurity Analyst+: Attack Types
CS0-002 - CompTIA Cybersecurity Analyst+: Malware Threats
CS0-002 - CompTIA Cybersecurity Analyst+: Encryption & Hashing
CS0-002 - CompTIA Cybersecurity Analyst+: Hardware & Security
CS0-002 - CompTIA Cybersecurity Analyst+: Cloud Computing
CS0-002 - CompTIA Cybersecurity Analyst+: Threat Monitoring
CS0-002 - CompTIA Cybersecurity Analyst+: User Account Security
CS0-002 - CompTIA Cybersecurity Analyst+: Network Infrastructure Security
CS0-002 - CompTIA Cybersecurity Analyst+: Software Development Security
CS0-002 - CompTIA Cybersecurity Analyst+: Data Privacy
CS0-002 - CompTIA Cybersecurity Analyst+: Digital Forensics
CS0-002 - CompTIA Cybersecurity Analyst+: Network Scanning & Traffic Analysis
CS0-002 - CompTIA Cybersecurity Analyst+: IT Security Risk Mitigation
CS0-002 - CompTIA Cybersecurity Analyst+: Intrusion Detection & Traffic Analysis

MeasureUp Exam simulation
Online Mentor
Tips & Tricks
Practice Labs