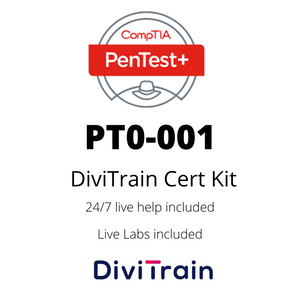 Description:
The CompTIA PenTest+ certification verifies that successful candidates have the knowledge and skills required to plan and scope an assessment, understand legal and compliance requirements, perform vulnerability scanning and penetration testing, analyze data, and effectively report and communicate results.
Prerequisites:
Before attending this course, you should have:
Network+, Security+ or equivalent knowledge
A minimum of 2-3 years of hands-on information security or related experience.
 Course outcome:
PLANNING & SCOPING

Explain the importance of planning and key aspects of compliance-based assessments

INFORMATION GATHERING & VULNERABILITY IDENTIFICATION

Gather information to prepare for exploitation then perform a vulnerability scan and analyze results.

ATTACKS & EXPLOITS

Exploit network, wireless, application, and RF-based vulnerabilities, summarize physical security attacks and perform post-exploitation techniques

PENETRATION TESTING TOOLS

Conduct information gathering exercises with various tools and analyze the output and basic scripts (limited to Bash, Python, Ruby, PowerShell)

REPORTING & COMMUNICATION

Utilize report writing and handling best practices explaining recommended mitigation strategies for discovered vulnerabilities
Who should attend:
CompTIA PenTest+ is for cybersecurity professionals tasked with penetration testing and vulnerability management.
CertKit content overview:
E-learning courses (11 hours +):

CompTIA PenTest+: Planning for an Engagement
CompTIA PenTest+: Scoping an Engagement
CompTIA PenTest+: Information Gathering
CompTIA PenTest+: Vulnerability Identification
CompTIA PenTest+: Social Engineering and Specialized System Attacks
CompTIA PenTest+: Network-Based Exploits
CompTIA PenTest+: Application-Based vulnerabilities
CompTIA PenTest+: Local Host Vulnerabilities
CompTIA PenTest+: Post-Exploitation and Facilities Attacks
CompTIA PenTest+: Penetration Testing Tools
CompTIA PenTest+: Reporting and Communication
CompTIA PenTest+: Analyzing Tool and Script

Online Mentor
Tips & Tricks
Practice Labs