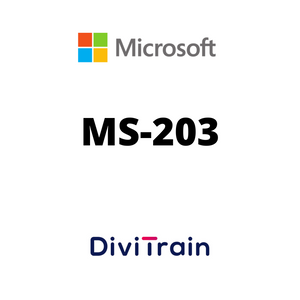 Description:
This course examines the key elements of Microsoft 365 messaging administration, including message transport and mail flow, messaging security, hygiene, and compliance, messaging infrastructure, and hybrid messaging. This course is designed for IT Professionals who deploy and manage the messaging infrastructure for Microsoft 365 in their organization.
Prerequisites:
Before attending this course, students must have knowledge of Microsoft 365, equal to the MS-900 - Microsoft 365 Fundamentals certification.
Course outcome:
Managing the Transport Pipeline
Managing and Troubleshooting Mail Flow
Managing Compliance
Managing Organizational Settings
Managing Mobile Devices
Managing Role-Based Permissions
Managing Recipient Objects and Resources
Managing Public Folders
Planning a Hybrid Environment
Performing Mailbox Migrations
Who should attend:
The Messaging Administrator deploys, configures, manages, and troubleshoots recipients, permissions, mail protection, mail flow, and public folders in both on-premises and cloud enterprise environments. Responsibilities include managing message hygiene, messaging infrastructure, and hybrid configuration and migration. The Messaging Administrator should have a working knowledge of authentication types, licensing, and integration with Microsoft 365 applications.
Module overview:
E-learning courses:

Configuring a Messaging Platform: Messaging Infrastructure Lifecycle
Configuring a Messaging Platform: Database Management
Configuring a Messaging Platform: Recipient Resources
Configuring a Messaging Platform: Database Availability Groups
Configuring a Messaging Platform: Client Access
Configuring a Messaging Platform: Disaster Recovery
Configuring a Messaging Platform: Transport Pipeline
Configuring a Messaging Platform: Connectors
Configuring a Messaging Platform: Mail Flow
Configuring a Messaging Platform: Troubleshooting Mail Flow Problems
Configuring a Messaging Platform: Mobile Devices
Implementing a Hybrid and Secure Messaging Platform: Planning Hybrid Environments
Implementing a Hybrid and Secure Messaging Platform: Deploying Hybrid Environments
Implementing a Hybrid and Secure Messaging Platform: Migration
Implementing a Hybrid and Secure Messaging Platform: Public Folders
Implementing a Hybrid and Secure Messaging Platform: Role-based Permissions
Implementing a Hybrid and Secure Messaging Platform: Message Hygiene
Implementing a Hybrid and Secure Messaging Platform: Advanced Threat Protection (ATP)
Implementing a Hybrid and Secure Messaging Platform: Compliance
Implementing a Hybrid and Secure Messaging Platform: Retention & Data Loss Prevention
Implementing a Hybrid and Secure Messaging Platform: Sharing
Implementing a Hybrid and Secure Messaging Platform: E-mail Address Policies and Workload Management
Implementing a Hybrid and Secure Messaging Platform: Address Lists
Implementing a Hybrid and Secure Messaging Platform: Offline Address Books (OAB)

MeasureUp Exam simulation
Tips & Tricks