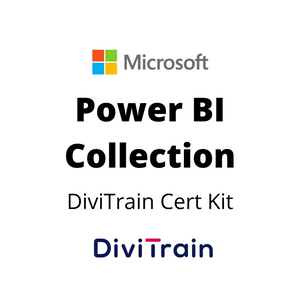 Today's large volumes of data can provide insights that are visible only when data is transformed, summarized, and visualized correctly. Important decisions can then be made from relevant and compact information.
Target Audience: IT technicians and business analysts who need to analyze data utilizing Power BI
This collection contains of the following three courses:
Data Analytics using Power BI: Concepts
Business intelligence boils down to knowing how to manage data to draw conclusions from otherwise meaningless information.
Objectives:
Introduction to Business Intelligence

describe the purpose of business intelligence
determine what data is telling you
describe how data visualizations can convey meaningful messages
use self-provisioning to work with Power BI
define Excel functionality related to Power BI

Getting Started with Microsoft Power BI

recognize Power BI capabilities
explain what the Power BI cloud service is used for
create a personal Power BI service account
explain what Power BI desktop is used for
install Power BI Desktop
use mobile device apps to interact with Power BI dashboards and reports
install the Power BI app on Windows 10
determine which region your Power BI tenancy exists in
recognize when to use Power BI groups

Practice: Understand Power BI Concepts

describe Power BI concepts and establish data sources
Data Analytics Using Power BI: Data Sourcing and Preparation
Power BI can draw data from numerous files, databases and web sources. Data must sometimes be transformed for use in analytic software such as Power BI.
Objectives:
Getting Data into Power BI

describe where Power BI data comes from
recognize how Power BI can use data from files
recognize how Power BI can use data from databases
recognize how Power BI can use data from online sources
use Quick Insights in the Power BI Service to quickly generate interactive data visualizations
import a file data source into Power BI
import a database data source into Power BI
import a web URL data source into Power BI
recognize the purpose of the Power BI Gateway
configure the Power BI on-premises Gateway

Data Preparation

describe why data in its raw form is sometimes not suitable for use with Power BI
determine when the use of queries is appropriate
recognize when data should be combined
explain how row values can be grouped together and how rows can be filtered out to remove unnecessary data
create an append query
create a merge query
filter out rows that are unnecessary
create a calculated column

Practice: Prepare Data for Visualization

ensure data is in a form usable by Power BI for querying and visualization
Data Analytics Using Power BI: Data Modeling and Visualization
Data must sometimes be modeled for use in analytic software such as Power BI. This can reveal patterns and relationships that can be conveyed in a quick and compact form using visualizations.
Objectives:
Data Modeling

recognize when to use Data View in Power BI Desktop
recognize when to use Relationship View in Power BI Desktop
navigate through Desktop View in Power BI Desktop
navigate through Relationship View in Power BI Desktop
explain the purpose of DAX, including syntax
create a DAX measure formula

Data Visualization

define how visualization can quickly convey messages from large datasets
explain how KPIs are used to measure progress
explain how to work with and create reports
create a report in Power BI
explain how dashboards can be used to monitor data at a glance
create a custom Power BI dashboard
share a Power BI dashboard with other users
filter visualizations using slicers

Practice: Prepare Data for Visualizations

ensure data is in a form usable by Power BI for querying and visualization