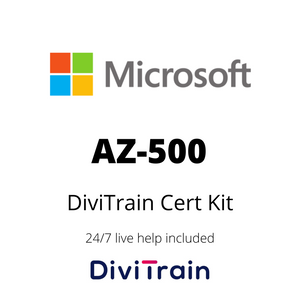 DESCRIPTION
Cert Toolkit
In-depth e-learning content includes 365-day online access to e-learning, exam quizzes, tips, and information.
MeasureUp practice test is available for 60 days which starts with the first time you access the practice test area.
Some Cert Kit Titles include online mentoring for 365 days. 
Details
In this CertKit students will gain the knowledge and skills needed to implement security controls, maintain the security posture, and identify and remediate vulnerabilities by using a variety of security tools. The CertKit covers scripting and automation, virtualization, and cloud N-tier architecture.

Prerequisites:
Before attending this course, students must have knowledge of Microsoft Azure Administrator Associate as defined in the AZ-103 certification.
Course outcome:
Describe specialized data classifications on Azure.
Identify Azure data protection mechanisms.
Implement Azure data encryption methods.
Secure Internet protocols and how to implement them on Azure.
Describe Azure security services and features.
Who should attend:
Students should have at least one year of hands-on experience securing Azure workloads and experience with security controls for workloads on Azure.
Module overview:
E-learning courses:

AZ-500 - Microsoft Azure Security Technologies: Azure Storage Account Security
AZ-500 - Microsoft Azure Security Technologies: Data Classification
AZ-500 - Microsoft Azure Security Technologies: Database Security
AZ-500 - Microsoft Azure Security Technologies: Database User Access
AZ-500 - Microsoft Azure Security Technologies: Identity & Access Management
AZ-500 - Microsoft Azure Security Technologies: Azure AD Connect
AZ-500 - Microsoft Azure Security Technologies: Azure AD User Management
AZ-500 - Microsoft Azure Security Technologies: Azure AD Group Management
AZ-500 - Microsoft Azure Security Technologies: Network Security
AZ-500 - Microsoft Azure Security Technologies: VPNs
AZ-500 - Microsoft Azure Security Technologies: Web Application Security
AZ-500 - Microsoft Azure Security Technologies: VM Security
AZ-500 - Microsoft Azure Security Technologies: Application Containers
AZ-500 - Microsoft Azure Security Technologies: Azure Key Vault
AZ-500 - Microsoft Azure Security Technologies: Azure RBAC & Policies
AZ-500 - Microsoft Azure Security Technologies: Monitoring, Logging, & Alerts
AZ-500 - Microsoft Azure Security Technologies: Azure Security Center
AZ-500 - Microsoft Azure Security Technologies: Review Course 1
AZ-500 - Microsoft Azure Security Technologies: Review Course 2

MeasureUp Exam simulation
Tips & Tricks
24/7 Live Help