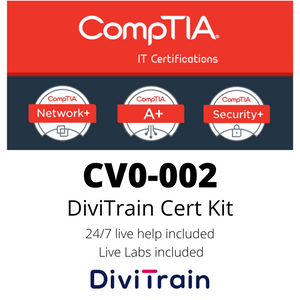 DESCRIPTION
Cert Toolkit
In-depth e-learning content includes 365-day online access to elearning, exam quizzes, tips and information.
MeasureUp practice test is available for 60 days which starts with the first time you access the practice test area.
Some Cert Kit Titles include online mentoring for 365 days. 
Details
CompTIA Cloud+ provides a foundation for IT practitioners that are operating in a cloud computing environment. This CertKit provides coverage of Cloud methodologies and terminology required to implement and manage a cloud infrastructure and its components.
Prerequisites:
To ensure your success in this course, you should have 24-36 months' experience with IT networking, network storage, and data center administration. You should also have familiarity with any major hypervisor technologies for server virtualization, basic knowledge of common cloud service models, and common cloud deployment models.
Course outcome:
Prepare to deploy cloud solutions.
Deploy a pilot project.
Test a pilot project deployment.
Design a secure network for cloud deployment.
Determine CPU and memory sizing for cloud deployments.
Determine storage requirements for cloud deployments.
Plan Identity and Access Management for cloud deployments.
Analyze workload characteristics to ensure a successful migration to the cloud.
Secure systems to meet access requirements.
Maintain cloud systems.
Implement backup, restore, and business continuity measures.
Analyze cloud systems for the required performance.
Analyze cloud systems for anomalies and growth forecasting.
Troubleshoot deployment, capacity, automation, and orchestration issues.
Troubleshoot connectivity issues.
Troubleshoot security issues.
Who should attend:
This course is designed for IT professionals who wish to develop cloud computing skills to enable them to move IT workloads to the cloud and integrate products and services from different providers and industries. Their focus is to ensure that cloud deployments are secure, that automation and orchestration are used effectively to bring business value from the cloud, and that costs are controlled through effective management of cloud vendors.
Module overview:
E-learning courses:

CompTIA Cloud+ CV0-002: Planning Cloud Deployments
CompTIA Cloud+ CV0-002: Planning Cloud Networking
CompTIA Cloud+ CV0-002: Planning Cloud Compute Resources
CompTIA Cloud+ CV0-002: Planning Cloud Storage Resources
CompTIA Cloud+ CV0-002: Planning Cloud Migrations and Extensions
CompTIA Cloud+ CV0-002: Security Configurations and Compliance Controls
CompTIA Cloud+ CV0-002: Security Technologies and Automation Techniques
CompTIA Cloud+ CV0-002: System Patching and Maintenance
CompTIA Cloud+ CV0-002: Disaster Recovery
CompTIA Cloud+ CV0-002: Performance Management
CompTIA Cloud+ CV0-002: Troubleshooting Deployments

MeasureUp Practice Test
Online Mentor
Tips & Tricks
Live Labs