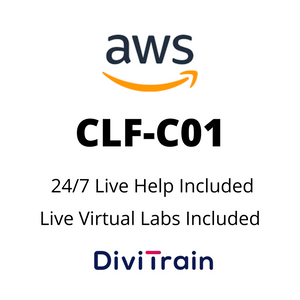 This fundamental-level DiviTrain CertKit is intended for individuals who seek an overall understanding of the AWS Cloud, independent of specific technical roles. It provides a detailed overview of cloud concepts, AWS services, security, architecture, pricing, and support to enable you to build your cloud skills and grow your professional credibility.
Prerequisites:
None
Course outcome:
Define what the cloud is and how it works
Differentiate between cloud computing and deployment models
Describe the AWS Cloud value proposition
Describe the basic global infrastructure of the cloud
Compare the different methods of interacting with AWS
Describe and differentiate between AWS service domains
Given a scenario, identify an appropriate solution using AWS Cloud services
Describe the Well-Architected Framework
Describe basic AWS Cloud architectural principles
Explain the Shared Responsibility model
Describe security services with the AWS cloud
Define the billing, account management, and pricing models for the AWS platform
Identify future services and developments built on the cloud
 Who should attend:
This course is intended for all professionals working with AWS.
DiviTrain CertKit content:
E-learning courses:

AWS Cloud Practitioner 2020: Cloud and the Value Proposition
AWS Cloud Practitioner 2020: Cloud Economics
AWS Cloud Practitioner 2020: Cloud Architecture Design Principles
AWS Cloud Practitioner 2020: Cloud Security & Compliance
AWS Cloud Practitioner 2020: Access Management
AWS Cloud Practitioner 2020: Security Support Resources
AWS Cloud Practitioner 2020: Cloud Deployment & Operation
AWS Cloud Practitioner 2020: Core Services
AWS Cloud Practitioner 2020: Technology Support Resources

MeasureUp Exam simulation
Tips & Tricks
Virtual Challenge Labs

Getting Started with AWS Cloud Fundamentals [Getting Started]
Getting Started with AWS Elastic Compute Cloud [Getting Started]
Implement Elastic Load Balancing Between EC2 Instances [Guided]
Create EC2 Instances by Using Auto Scaling [Guided]
Implement the Simple Storage Service [Guided]
Implement a Network Access Control List [Guided]
Configure a Security Group [Guided]
Implement Identity and Access Management [Guided]
Can You Configure an Auto Scaling Group and a Load Balancer? [Advanced]
Can You Secure Access to an S3 Bucket? [Advanced]
Can You Implement Secure Access to a Service? [Advanced]